Hotel Palma Costa Gioiosa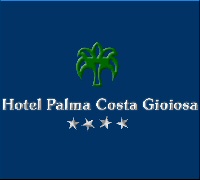 BOOKING FORM - RICHIESTA PRENOTAZIONE
---
HOTEL PALMA GIOIOSA
Ubicazione: L'Hotel Palma Costa Gioiosa sorge, immerso in un'oasi di verde, su di un colle a guardia di Castropignano, borgo di origine sannitica e di marcate tradizioni medievali.

Da qui è possibile ammirare un panorama di incomparabile bellezza: l'abitato, dolcemente disposto sul costone roccioso, le digradanti collinette, la valle ubertosa, solcata dal fiume Biferno e i più lontani orizzonti.

Affermatosi come il complesso più moderno del Molise e del centro-sud d'Italia, occupa una superficie complessiva di 20.000 mq., di cui 5.000 mq. sono adibiti a parco giochi per i bambini e a giardino, suggestiva cornice per la ristorazione all'aperto e la pista da ballo.

Hall: Nella Hall dell'Hotel Palma si può apprezzare l'eleganza e la sobrietà degli interni e ci si può intrattenere stando comodamente seduti su moderni divanetti.

Camere: 200 Camere di cui 20 provviste di balcone, offrono 500 posti letto e sono tutte dotate di servizi completi:
doccia o bagno privato, telefono, TV color, frigobar e aria condizionata.


Sale ricevimenti: L'Hotel mette a disposizione 3 grandi sale da pranzo provviste di aria condizionata, ideali per ricevimenti fino a 2500 posti. La cucina internazionale è arricchita da specialità locali e a base di pesce.

L'immenso spazio all'aperto può ospitare fino a 1000 persone, garantendo grande divertimento a tutti gli ospiti. L'Hotel dispone anche di una sala-balera interna vastissima che può ospitare fino a 800 persone.

Piscine: L'Hotel è dotato di una grande piscina per adulti e di una piccola destinata ai bambini. Durante il periodo estivo può essere gradevole prendere il sole e godersi il magnifico paesaggio circostante.

Sport: Ai clienti amanti dello sporto viene data la possibilità di praticare il tennis nei due campi in terra battuta e giocare a bocce nei quattro campi adiacenti l'Hotel.





Bar,
Camere,
Telefono in camera,
Ristorante,
Bagno con doccia,
Tv Color,
Acensore,
Cassaforte,
Frigo Bar,
Sala Conferenze,
Si accetta Carte di Credito,
---
Dove siamo:

---
PALMA GIOIOSA HOTEL
Location: The Hotel Palma Costa Gioiosa rises, dipped in a green oasis, on a hill to guard of Castropignano, village of sannitica origin and marked medieval traditions.

From it is possible here to admire a panorama of incomparable beauty: the inhabited centre, sweetly disposed on the rocked slope, declined hills, the fertile valley, furrowed from the Biferno River and the farthest horizons.

Asserted like the more modern complex of Molise and the centre-south of Italy, it occupies a total surface of 20.000 square meters. of which 5,000 square meters. are used as park for the children and as garden, evocative frame for the open air restaurant and the open air dance floor.

Hall: In the Hall of the Hotel Palm can be appreciated the elegance and the sobriety of the insides and you can be entertained comfortably being seated on modern sofas.

Rooms: 200 Rooms of which 20 supplies of balcony, offer 500 beds and are all equipped of complete services:
or private bath, telephone, TV set, frigobar and conditioned air.


Banqueting hall: The Hotel puts to disposition 3 large dining rooms air conditioned supplied, good for receptions until 2500 places.
The international cooking is enriched from local specialties and fish-based.

The immense open air space can accommodate until 1000 persons, guaranteeing great fun to all the hosts.

The hotel has a big dance room inside, that can contain untill 800 people.

Swimming pools: The Hotel is equipped of one great swimming pool for adults and one small for the children. During the summer it can be pleasant to take the sun and to enjoy the magnificent surrounding landscape.

Sport Courts: To the customers who love sport it is given the possibility to practice tennis in the two courts in battered earth and to play bowls in the four courts next to the Hotel.





Bar,
Rooms,
Phone in room,
Restaurant,
Bathroom with shower,
Tv Color,
Lift,
Safe,
Minibar,
Conferences Room,
Credit Card accept,
---
Where we are:

Hotel Palma Costa Gioiosa
Via Statale, 618, Castropignano, CB, Italy